Although "holding tubes" have been used as continuous fluid holding containers, there was a disadvantage that the equipment volume is large and the cost of insulation work is large.
That is, in the case of a holding tube, a large number of pipes are connected and a long flow path is connected, so the flow path length becomes very long, and a stand for supporting many pipes is necessary. Also, heat insulation work on the outer surface of a long pipe requires not only too much cost but also a long construction period.
We developed as a continuous holding container for sterilization at high temperature on the basis of KUROSE spiral type heat exchangers. It call "Spiral reactor" or "holding spiral" which is figure1. In case of that, the space of equipment is much less than "holding tubes". That refer to figure2.
Since most of the flow paths are stored inside the container, the outer surface is as little as compared with the "holding tube case", so that the price and construction period of the thermal insulation can be saved.
<Figure1>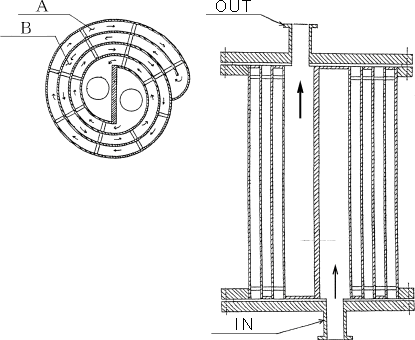 <Figure 2>
Under the same condition, when compare to conventional one which capacity is 250 L, Spiral type is compact.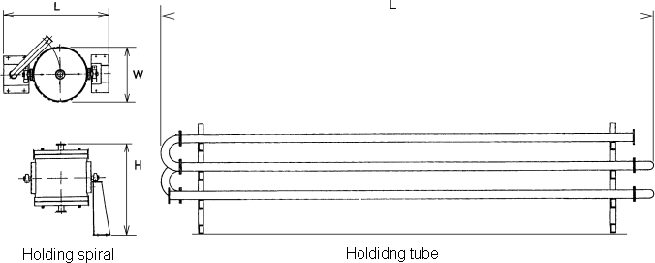 | | Holding spiral | Holding tube |
| --- | --- | --- |
| Height : H (m) | 1.20 | 1.45 |
| Wideth : W (m) | 0.89 | 0.55 |
| Length : L (m) | 1.66 | 6.00 |
| Volume: V (m3) | 1.77 | 4.79 |
| Installed area : (m2) | 1.48 | 3.30 |
| Exterior surface : (m2) | 3.00 | 10.00 |